Happy Friday! If the promise of the weekend around the corner didn't make you happy enough, I'm excited to also announce the winner of the
The Sharp Crochet Hook
giveaway. I've had a lot of fun using this little tool to add decorative edges to my projects (and plans for quite a few more soon!)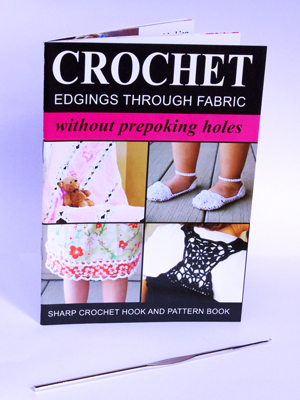 After plugging all of the entries on Random.org, the lucky winner of the Sharp Crochet Hook is..............
#14,
Susan D
!
Congrats Susan! The winner has been sent an email. I'm sure you'll have just as much fun as I have playing with your new crochet hook.
Even if you didn't win, you can buy the Sharp Crochet Hook by itself for only $6.99, or you can purchase the combo pack that includes the hook and the Crochet Edging Handbook with 15 different crochet patters for $10.99. It's a great deal for such an awesome product. You can crochet decorative edging on all sorts of fabric (and even paper!) with this baby.
Thanks to all who entered, I appreciate each and every one of you! Make sure you check back next week - I have another really great giveaway for you then too!